Mid-Atlantic Nostalgia Convention
Clarion Hotel, Aberdeen, MD
September 14 - 17, 2006


David came in on Thursday from LA with three of the other actors appearing at the show, Marta Kristen, Lana Wood and Richard Herd.

There was speculation we might need an ark instead of two cars, but we all made it safely through the steady drizzle into Aberdeen and the Clarion Hotel for a late dinner.

David had a busy Friday morning signing. John helped fans select their pictures. I took pictures (when needed) and chatted with David during lulls.

Linda Delaney came by the table and brought David snacks and some new photos. Dori Martin brought her 4 year old granddaughter - who wanted David to sign a picture of his dog (Highway) and her teddy bear. David did both. Nancy and John Appelhof were also there.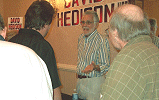 It was a very small dealers room, so it didn't take much to overwhelm our tight little back corner of it, but David (as always) was patient and friendly and everyone at the show loved him.



Saturday was more of the same - only three times more crowded. The only break David had was his panel. He launched into the Q & A without waiting for the moderator. About half way through, Derek remarked "You really don't need me, do you?" David smiled and said he could stay. The audience cracked up. More on the Q&A

They asked David questions about The Fly, his name change, Licence to Kill, The Lost World and The Greatest Story Ever Told. David told the audience his leg was now prosthetic, that it was actually bitten off by the shark during filming. No one believed him.



The biggest laugh (and there were many) came when David was describing some early publicity for The Fly. Fox hired some airplanes to fly banners over the Santa Monica beach saying "The Fly is Open!" Back and forth - all day long. The audience was in hysterics. David got a standing ovation at the end. Good crowd, too.



Then it was back to the dealers room for another two hours and that was the con, as David had to leave very early Sunday to come back to LA. All of us who went to Aberdeen had a great time. Look for their pictures on this site soon.

Diane Kachmar
September 19, 2006
Text and Photos by John and Diane Kachmar

Courtesy of Maxine and Steve Wrzesien


David with Conrad Brooks and Kenny Miller
photo by Jean Goyette


David with Dori and Megan
Courtesy of Dori Martin

David and Lana Wood
photo by Jean Goyette


Photo by Greg Dickie




Courtesy of Nancy Appelhof
Photos by John Appelhof
Nostalgic Rumblings: Mid Atlantic Nostalgia Convention Wrapup