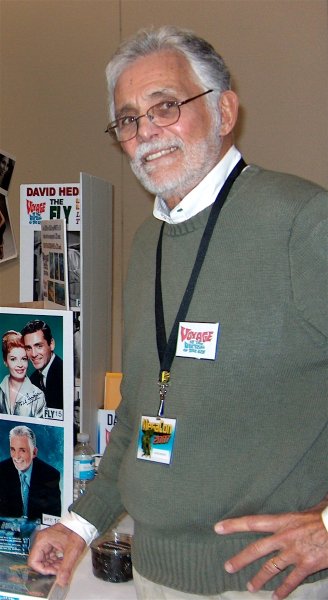 Orange County Convention Center
Orlando FL
February 16-18, 2007

Megacon opened at noon on Friday with David at the end table (by the green room). A curtained off area of drapes and rods on carpet. Which was convenient and we would have stayed there but the "green room" fell down twice.



Once in the opposite direction of us into the green room (no one thankfully was in there) and a second time down on the selling floor (in the opposite direction) while David and I were inside the green room making tea. We decided not to tempt the fates a third time and moved down the room to an empty table between the two Lois Lanes (Margot Kidder and Noel Neill) who turned out to be lovely neighbors for the rest of the con.

David had fun meeting everyone including Carol Foss, Bob Yazel, Sue Kite, Dori Martin, Kim Q, Lin and Casey. I hope to have some of their con pictures up soon. Here are some of mine, mostly taken by my husband, John Kachmar.

David was very popular, signing everything from Wooden Flying subs to Voyage game boards to Fly Disintegrator blueprints. Someone even brought in a Statler Brothers album. It was cold (for Florida) but that did not deter the crowd and the hall was packed on Saturday. David was thanked over and over for coming out and for being everyone's childhood hero.

Everyone who went had a fabulous time (in their parkas!)

Diane Kachmar
February 19, 2007
Diane's extended MegaCon Wrap up

Friday:


David's Radio Interview with SciFi Zone at Megacon is now available online


Saturday:





David and John



Sunday:

Courtesy of Carol Foss: