I had a brilliant time in Birmingham on Saturday March 29!

I left home at 5 am in the morning as I had to get my son to the airport by 6 am. I'd been awake since 2.40 am anyway, as I was excited and worried about sleeping in and being late. I think I felt better for it really, as I wasn't awakened from a deep sleep to get up.

Made it to the airport by 6.05 am and then headed off to Birmingham. The airport was in the right direction for Birmingham, so it wasn't worth going home again. At least the roads were pretty empty!

Arrived at the NEC at 9 am, after stopping for some caffeine. I thought that I'd read somewhere that the celebrities wouldn't be arriving until 10 am so I had a wander around first before going to see David. There was a queue in front of him, which was pleasing to see.



He recognised me and I got a lovely "Hi Sue" again. Mmmmm! David said that he'd been there since 9.15 after leaving at 8 am that morning. I chose another photo for him to sign (a Felix Leiter one), but he wouldn't take any money from me as he said that I'd already spent enough and that I was keeping Diane happy! How lovely is that?

I told David that I was looking forward to his interview in the stage area at which he looked rather puzzled. The man who was looking after him quickly said that he hadn't had chance to tell David yet, but that David was to do a half hour interview and Q & A session at 11 am.

I think that David was having a little trouble hearing as the acoustics in the hall were pretty poor. He asked me how I'd got to the NEC and I explained about coming via the airport. He thought that I'd flown up until I explained. I took a couple of photos and said that I'd see him in the interview.

I went back to my wandering. Quite a few people had entered into the spirit of the show and had dressed up as sci-fi characters. There were lots of Storm troopers, Pirates of the Caribbean, Dr Who characters and a few Star Trek characters.

There were many stalls selling autographed photos, toys and all sorts of memorabilia. I found a Polaris model of the Seaview, but there was no one to ask about it at the time. I went back later and it had gone! I also found a few autographed photos of David, which were £20 each.

I thought that they weren't going to sell any of those when one could actually have David sign one personally for £15! (US$30) I also found a photo of David and Richard Basehart with signatures of them both. They were asking £50 for that – a bit too expensive for me!


I went to the stage area early in order to ensure I had a good seat. The seating area was mostly full by the time David came in. He talked first of all of how he became an actor – played a principal in a school play and decided that was what he wanted to do.

Had a good grounding in learning to act by doing lots of plays in New York, took a 2 year course and learned how to dance, fence etc. (That set off a fantasy about asking him for a dance! Mmmmm!)

He spoke about being called to do a screen test for Fox in Hollywood and being convinced that he'd done no good. As we all know that wasn't the case!

David was asked if he would do another James Bond film, given the chance, and which of the 2 films he enjoyed working on the most.

David said he would jump at the chance of doing another, but didn't expect it to happen. He said that whilst he enjoyed working with Timothy Dalton as he was a fine actor, Roger Moore was a good friend and he was also 16 years younger when he was making that film!



David also said that it used to be a good trivia question as to who had played Felix Leiter twice, but he had now been overtaken by someone else (Jeffery Wright) who will probably play the role for the third time. That's a shame!

I took a photo whilst he was on the stage and David introduced me to everyone as "Sue Davey who is taking some good photos for my web site." I wasn't sure whether to slide down in my seat and hide. I thought that, I hope the photos are good after this build up!



David talked about actors who became actors at an early age, going straight into films with no training. Then, when their film careers ended, they would try and go on the stage, but would have lots of difficulties as they hadn't come up through the theatre.

He ended by saying that he thought that anyone could achieve what they wanted in life if they followed their dreams and were not deflected. David's father was not keen for him to go into acting, but he had decided to follow his dream. Thank goodness! Just think how much poorer our lives would have been without him to brighten our days and daydreams.

David headed back to his table. I decided to carry on wandering about and keep an eye on David's table every now and again. If he looked really quiet I would say hello, otherwise I'd keep away.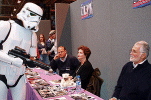 It was nice to see that he was steadily busy. Some of the 501 troop of storm troopers came to shake his hand. I managed to get a photo of one of them speaking to him. Looks good.

I'd spoken to Sally earlier in the week and we arranged to meet up, so I was keeping my eyes open for her. David was quiet the next time that I went round and as I approached him he said that someone was looking for me – Sally.

Sally appeared just then. It seems that she'd been looking for me, whilst I was looking for her. It was really nice to meet her. We had a quick chat with David and then when someone came over to see David we decided to go for a coffee.

We had a good chat and a laugh – obviously a lot in common! We didn't think that David looked as well as he had the previous week in London, unless it was just that it was such a long day in Birmingham as opposed to the couple of hours in the mag shop. We decided that we'd go back to see David one last time then head off home.

When we got back to David's table he wasn't very busy, so we chatted a bit with him and I a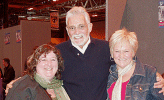 sked him if we could be very cheeky and have a photo taken with him. He agreed straight away and came around the table to stand with us. This is where things went a bit wrong..... or right as the case may be. Sally offered to take a photo of me with David, but she couldn't get her camera to work. She had a go, Sally's friend Tracy had a go and then I had a go. None of us could get it to work properly. We then thought that we'd take a photo with my camera, so Sally and I stood on either side of David – my camera then died! (I'd tried to do a video whilst David did the interview but couldn't sort it out. It obviously depleted the battery though.)

Back to Sally's camera, which we then managed to work out after a few abortive attempts. Of course during all this messing about, Sally and I were stood next to David with his arms around us, so we weren't complaining. Tracy took a photo of us, but then the camera stopped working again. David gave up at this point and went to sit down again. We joked with him that we weren't really worried about the cameras working as we were getting lots of hugs from him. Lovely!

David was then busy for a while so we stood aside and chatted and played with our cameras. When David was free we went to chat with him again. Sally had been rewatching The Fly earlier in the week, so we chatted about that film. Sally said that she loved the film and asked David how he'd made the twitchy bits on his face twitch when he was wearing the mask. David demonstrated....

David also said that the ladies don't like The Fly - they don't like what happens to Lee Crane! He asked if we'd got our cameras to work, so we said yes and he came round the table again. My camera had recharged so we got another photo and Sally took another as well!



People were starting to pack up so we decided that we'd better go. David told us to be safe driving home and we thanked him for all his time. He said that we had made his day and were very good for his ego! He then gave both of us a kiss mmmmmmmm then we left.

I had such a lovely day. David was wonderful again and it was brilliant to spend so much time with him. It was also great to meet Sally!

Weather was pretty grotty on the way home, but I was too high to care.

Sue Davey
March 31, 2008

Saturday 29th March 2008

Hello everyone!

After having had such a good time at David's signing in London, I left the decision to drive up to Birmingham to see him again, until the very last minute. It was quite a way from where I live, in the south east of England, but I wanted to go and also I wanted to meet up with Sue.



I didn't get there until just before midday so, unfortunately, I missed him talking about his career on the stage. Shame about that.

It was a huge show, full of celebrity stuff and sports people, but I found David easily because Diane had pointed me in the right direction.

I told him I'd seen him on TV last night in "Murder She Wrote" (The Perfect Foil) and when I said that he was smoking a cigar he said, "Are you sure it was me"?

David persuaded me to buy a Fly poster signed by both him and Brett Halsey who was in Return of the Fly. He told me that it was rare and that he only had a few.

When I went back later, he remembered that I'd bought one and was very pleased to announce that he'd sold them all and that I had something rare. It was quite a cool thing. A kind of composite of all the Fly photos and posters. He wrote the famous words "Help Me" on it. He was ever so pleased that he'd sold all his Fly posters.



I had arranged to meet up with Sue Davey and although David said that she had been by taking photos, I couldn't find her.

It was very crowded. My friend and I hung around a bit, tried the restaurant and obvious places and eventually we met up with Sue and went for coffee. It was lovely to meet Sue. I met her at David's table (where else would you find Sue? :-)) and I think we made too much noise. lol.



David came out from behind his table and my other friend took a couple of photos. My camera was being right difficult! Much to David's amusement. He had to go and have a sit down whilst us girls sorted it out. He quipped, "Would you like a photo of me without my clothes on?"

"That would be nice", I said.

I asked him about the mask he had worn in The Fly and he said that he was moving those furry bits on the face with his teeth. I personally love The Fly. David's body language is brilliant in it. All that twitching he does and that horrible Fly claw that keeps attacking him, from out of his own pocket. (I didn't know that flies had claws. lol).

I like all that smashing up he does in the lab, too. We talked about one of my favourite Voyage episodes "Manbeast" and he proudly told us that he'd done all the stunt work in that ep. It's funny, but he smashed up the place in that one too! David said he was taking out all of his frustration about the producer.

He had quite a steady flow of visitors to his table. David proved to be very popular. He was very gracious to every one and a complete gentleman as ever. And he stayed right the way through until 5 pm. It was a long and tiring day for him, especially as he was going to do it all again on the Sunday. When I told my husband how long David was there for, he laughed at me and said, "Don't worry about him, he's alright." But I did

worry.

I never dreamed I would be able get so close to him. I thought it would be up to a table, chose a pic, pay and leave. It was nothing like that at all. He let all of his fans take photos, shake hands, everything. He didn't mind. He was very friendly.

When I was having a photo taken with him, he said, "hold my hand" and he took it and held it. A complete sweetheart.

It was getting quite late by this time and I thought that we'd better weigh anchor and get underway. I told him again that I so love Captain Crane and wanted Season 4 on DVD.

He hugged and kissed us and we all said goodbye and reluctantly left.

I'll never forget meeting David.



I had a wonderful, wonderful time with "The Captain." He's the best !!

Sally X