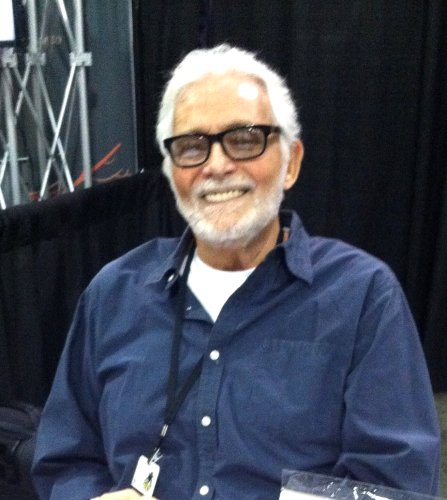 We arrived in LA on Thursday pretty much without incident except that my shuttle company tried to pick me up an hour before C J arrived. We finally got that straightened out and made it into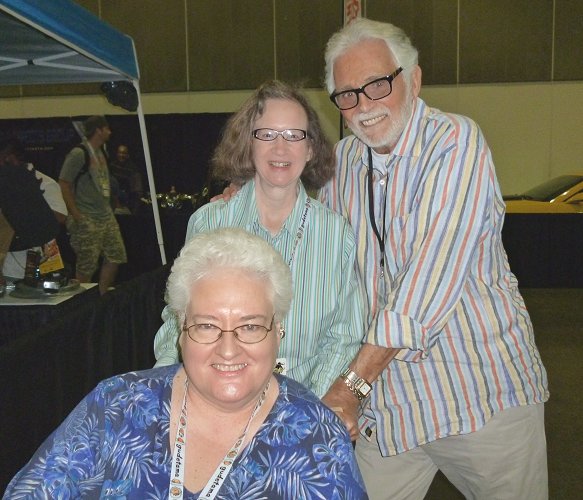 the Residence Inn Hotel. Which was very nice, they gave us a very high floor room away from the con noise. We were very happy with that room on the 19th floor. It had rails for C. J., and that worked out really well.
We unpacked. I retrieved my box of books from the hotel and emailed David we had arrived. C. J. had brought her laptop and I brought my Voyage DVDs and we turned the room TV into the big screen. We had a blast watching The Mermaid and The Monster from Outer Space and The Magnus Beam, as well as many more.
We were almost unpacked when Sherry called. We had her come down, and then we gathered up our con paperwork and made the trek over to the LA convention center for early badge pickup. We wandered around for a while, couldn't find anyone who knew where we could get C. J. a wheelchair, so we picked up our badges and left. It wasn't easy to find the badge pick-up place (unmarked) but we finally did.
They were kind enough to give us the number of Yellow cab in LA. We called a cab and went to a downtown diner, where we had a good meal. We took a Cab back to the hotel where we watched David's movie Mach 2 on the room TV, bid Sherry good-night, after we had planned out our Friday.
We got up in time for the free hotel breakfast. I ran a supply errand to the Ralph's for bottled water and other sundries. We went over to the Hall at 1:00 PM to get C. J. a wheelchair, as she could not stand for long periods (car accident) at the con. After three different stops, I finally snagged her the last wheelchair to be had, with no footrests.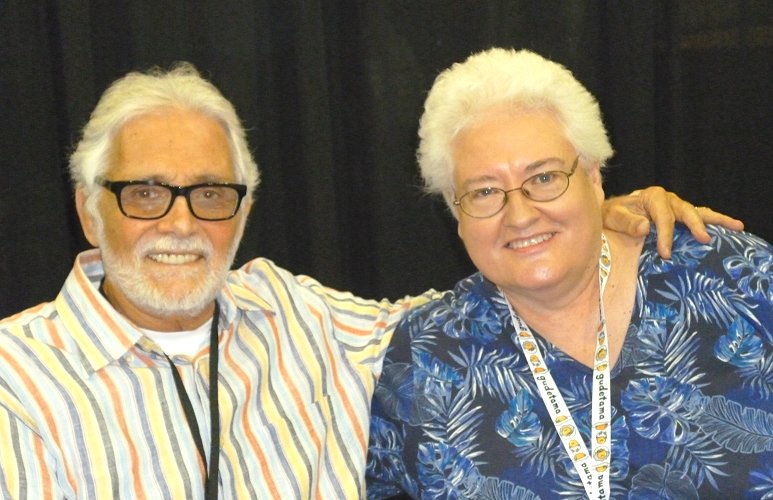 No matter. We pushed her into the Hall. Our plan was to find out where David was first. Then we would go do the other hall, since the con had said there were no autographs in David's Hall on Friday. We came around the corner and there was David.
I pushed C. J. up to the table and said, "You aren't supposed to be here."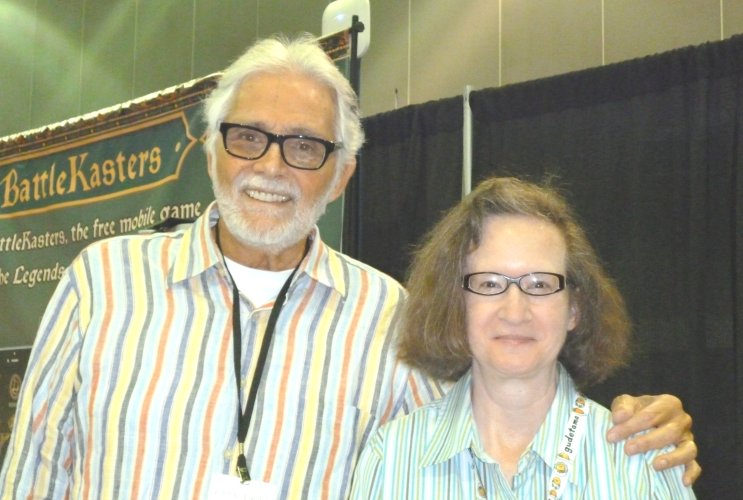 I had nothing I had brought to the con for David with me. C. J. and Sherry didn't have their items to sign, either. Well, he was there. The con had screwed up the listing of his days, so I immediately posted to Facebook that he WAS there, all I could do and introduced David to Sherry and C. J. They both bought pictures and told David about themselves. It was their first con.
I told David I had pre-sales for him to sign and I'd be back in half an hour with his money and my books for the table. It actually took 45 minutes to walk home, pack the stuff, catch a ride back and get back to the table.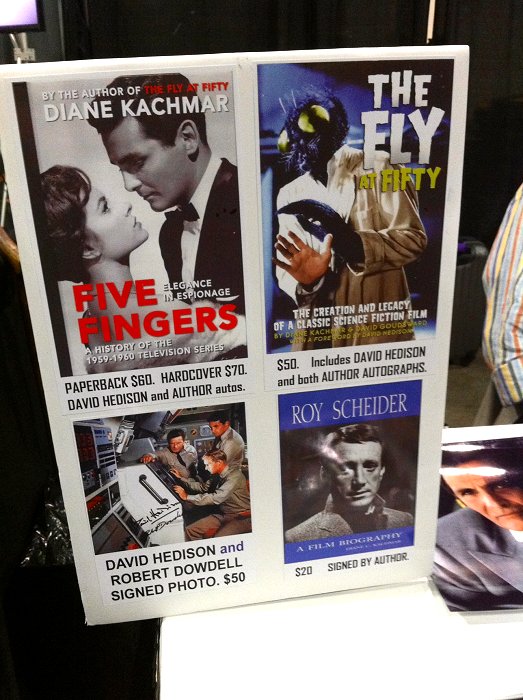 I wanted to put my sign together and set up the book display (of four different books) but David was impatient. So I put the roll of money on the table and told him to play with that, until I was ready. He persisted, so I put the sign aside and began giving him the books and the pictures and the Bond program to sign. So he signed all that and then I finished the sign and put up the books.
It was not all that busy. David was happy to see us and take pictures with us, but he had forgotten his hearing aids, so it was harder for him to follow our chatter, but he did the best he could. David stayed until about 4:30. I walked him back to the other hall to get his car. He dropped his (heavy) leather bag on to my shoulder as we left the hall. I tend to be his pack mule. I really do not MIND.
David wasn't sure he could find his car again, but he led me right to it. David walks with a cane now, and he makes quite the figure, tall, straight and distinguished, as he strolls along. With a big hug good-bye and a promise to find him the RIGHT hall to park in Saturday; David left the garage, turned onto Pico Boulevard and that was Friday.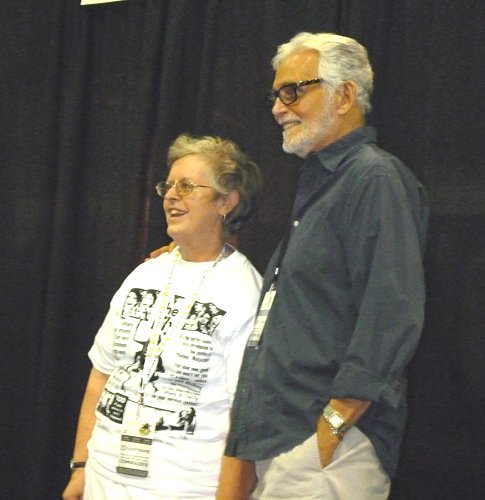 We took his pictures home with us when I packed up my books. David had told me not to leave them. Carol told me to have the pictures back for 10 AM on Saturday and they were. We were in the hall and had my books set up by 9:45. I put out water and hand sanitizer and throat drops for David and he used them all. He kept the snacks I gave him on Friday and ate them on Saturday. C. J. brought him oatmeal cookies and he enjoyed those as well.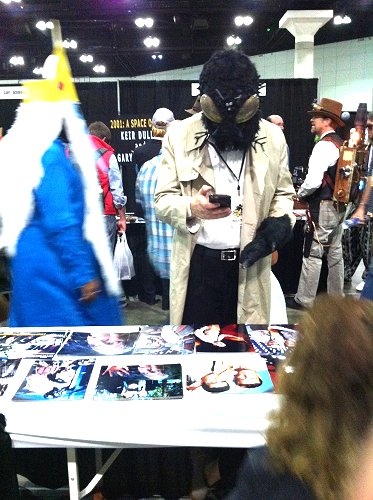 David was busier on Saturday. I had brought Fly t-shirts for most everyone to take pictures in and C. J. and I had put together identical Andre "The Fly" Delambre costumes. I also had black claw gloves for everyone who wanted one. I left my (store-bought) Fly mask on the table for David to see when he arrived and he laughed. I put it away after that, so they could set up his table.
C. J. and Sherry got their items signed, later Sue and Amanda and Charlotte and Janet showed up and they got several items signed. We took pictures. David was very game and would get up to pose with us. We got some really good pictures with him. He seemed genuinely happy that we were there to hang out with him. He was steadily signing most of the day, the hall started to empty out around 5:00 PM.
The hall got colder as it got emptier and David asked me if I had a jacket. I had taken off my lab coat because I had gotten too warm pushing C. J. out to the food court and down to the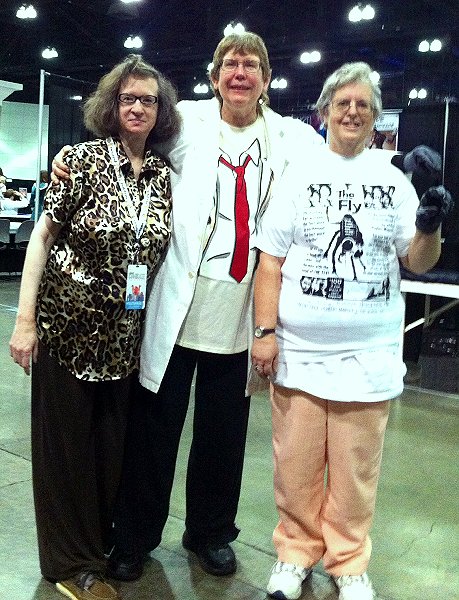 bathroom. So I wrapped my "Andre" lab coat around him and he wore it, until he left. Actually, he was wearing John's old hospital lab coat. We may never wash it again!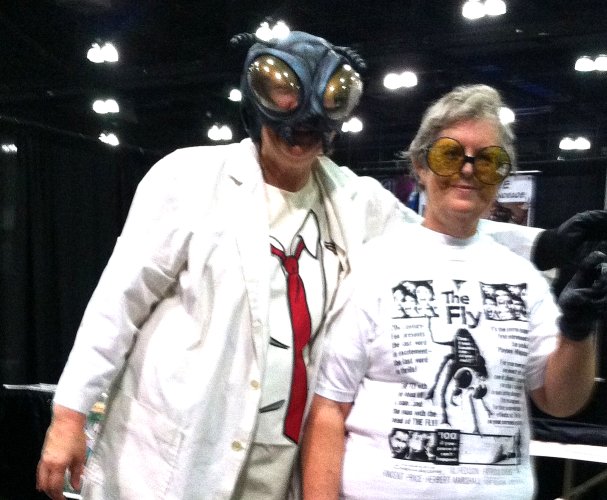 I helped David pack up. I wouldn't left him lift his (heavy) suitcase up onto the table with his bad shoulder. He told me "you're with me" when he left. So I took his suitcase full of pictures down from the table and rolled it out of the hall.
I found the parking garage entrance and sent him home. He gave me his con badge after he told me he wouldn't be back on Sunday. I got a very long hug goodbye and a kiss and thanks for all I did for him that weekend. So I kissed him back.
Sunday, C. J. and I did the "other" Hall that we had originally planned to do on Friday and spent about two hours looking at everything. I paid Casper van Dien for a selfie. He was so nice and looks even sexier in person.
We went back to the hotel to wait for our town car. It came when it was supposed to, which was a surprise. We got C. J. to the airport and into a wheelchair and through Security and on to her plane, which was early. I had three hours to kill, so I went up to the Admiral's club lounge. I helped Keir Dullea find the food when he walked in. C. J. called me about half an hour after she was supposed to take off and said she was on ground hold for Seattle, but they finally took off, an hour late.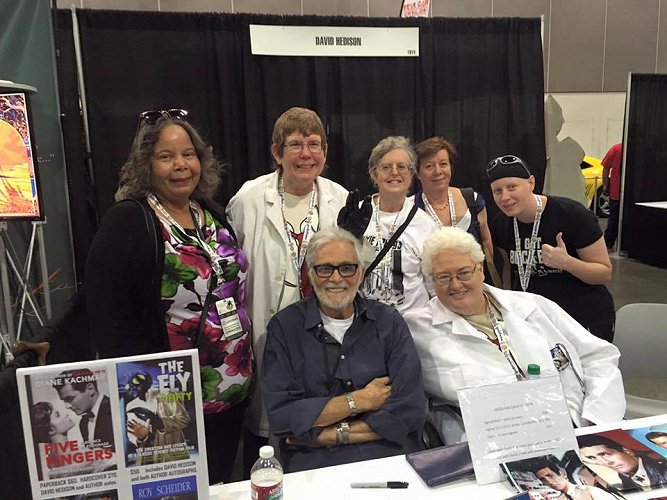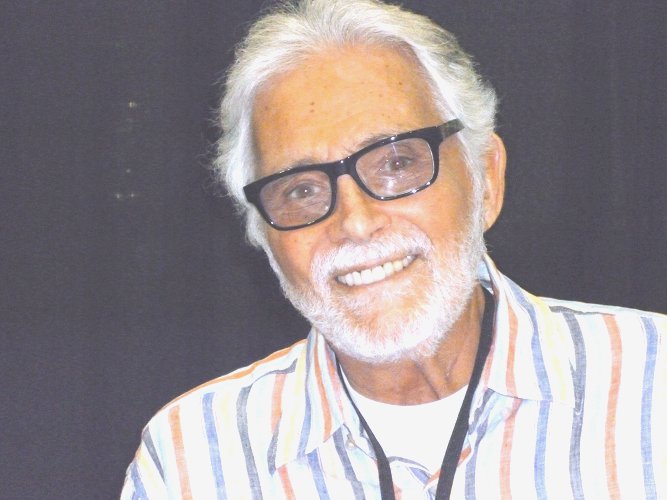 I went down and got on my flight, flew overnight to Atlanta, got another plane home and was home Monday by 11 AM. I had a great time with David. I saw so many costumes – it being a cosplay convention and it being Halloween. I think this the first Halloween con David and I have done together, but I hope it is not the last.
Diane Kachmar 11/05/15